Flickr/Luminis Kanto
Science & Nature
Robopsychology: A Short Reading List
In 2008 she obtained her Ph.D. and joined United States Robots as a "Robopsychologist," becoming the first great practitioner of a new science.
I, Robot (Introduction)
Once a career in the realm of science fiction, robopsychology is quickly becoming a real and important part of the field of artificial intelligence. The term "robopsychology" was first popularized in Isaac Asimov's I, Robot series, and featured robopsychologist Dr. Susan Calvin. Asimov described this fictional career as a mixture of psychology and mathematical analysis applied to robots.
Below is a short reading list covering such topics as robot behavior, effects of human-machine interactions, and future trends in artificial intelligence.
In the April 1983 issue of Omni magazine (pg. 10 in pdf), freelance writer Michael Edelhart examines the kinds of behavior we should program into the intelligent machines of the future.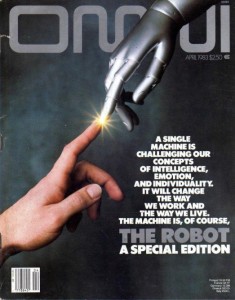 Robopsychology and Computers
In Robopsychology and Computers: Love at First Byte, an article from a November 1988 issue of Omni magazine (pg. 20 of pdf), Rosemarie Robotham explores the effects that computers and machines have on human psychology and the resulting effects those interactions may have on our relationships with other humans.
In this 2-part series (Why Robots Need Psychologists and Where Human Brains Far Surpass Computers), robopsychologist Andrea Kuszewski writes about her work at Syntience in San Francisco and future directions in AI research.
[Featured image: Flickr/Luminis Kanto]